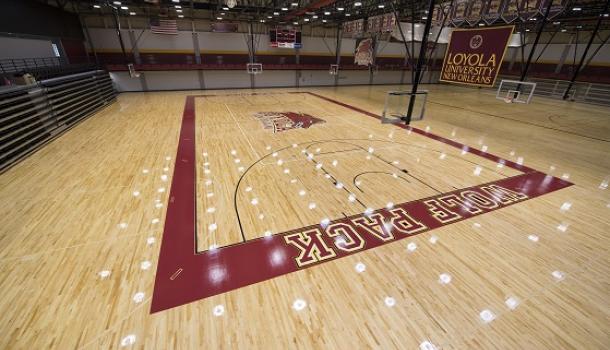 The Loyola Wolf Pack intercollegiate athletics program competes in the NAIA Division I as a member of the Southern States Athletic Conference. Loyola currently fields 18 teams in the following sports: men's and women's basketball, men's and women's cross country, men's and women's indoor and outdoor track, men's baseball, men's and women's tennis, men's and women's golf, men's and women's swimming, women's volleyball, cheer and dance. Each of these teams trains or competes in the University Sports Complex.  The Wolf Pack teams that compete outdoors have no true home field, as they must travel to various facilities in metro New Orleans.
Aside from their significant accomplishments in athletic competition, our Wolf Pack teams are outstanding scholar-athletes. Our teams regularly receive the NAIA Scholar Team Award for academic achievement.  For three consecutive years, the Wolf Pack athletic program has been named a prestigious NAIA Champions of Character Five-Star Institution, an honor that recognizes our teams for excellence in integrity, respect, sportsmanship, and leadership.
In summer 2017, the first phase of renovations to the sports complex was complete. The most noticeable improvement includes a varsity game floor with chair-back telescoping bleachers for Wolf Pack fans to enjoy basketball, volleyball, and cheer and dance competitions.  Upgraded lighting with LED lights to increase brightness for Wolf Pack athletic events, and the game floor now has Loyola's athletic logo prominently displayed on center court.  Other improvements in the facility included the men's and women's locker rooms for students, faculty, staff and patrons of the University Sports Complex.  A functional training area was created through a generous donation from Wolf Pack alumnus Roland Hymel.  
This initial work is just the beginning for the Sports Complex.  Future phases will include additional Loyola branding, a reimagined Hall of Fame space, and upgraded locker rooms and sports medicine areas for Loyola Athletic teams.  Exterior improvements are also planned for the facility that was built in 1987.
---
Preliminary cost estimates for a renovated sports complex that will house and catalyze the sports and fitness culture on Loyola's campus are based upon an adaptive re-use of the existing sports complex into a state-of-the-art athletic facility for use by student athletes and the general Loyola community. Pre-construction costs to consider include architecture, engineering, associated assessments, and program management. Construction costs are based on conditions specific to their building and the general economic context of the construction industry in Louisiana today.
Phase 1: Basketball Court and Bleachers = $1,200,000
Restriping and refinishing court to match configuration

New bleachers

New banners on outside the facility

New vinyl graphics applied to existing curtain wall glazing
Phase 2: Exterior Modifications – Media Signage Entryways = $5,000,000
New exterior entryway and media signage at both Freret and Campus entryway

New media signage tower at corner of Freret and Calhoun

New metal mesh screening at parking garage bays
Phase 3: Installation of New Exterior Windows and Interior Renovation = $10,800,000
New exterior windows created for more natural light and façade enhancement

Interior renovation, modified programmatic needs with necessary mechanical system upgrades
Total Project Cost = $17,000,000