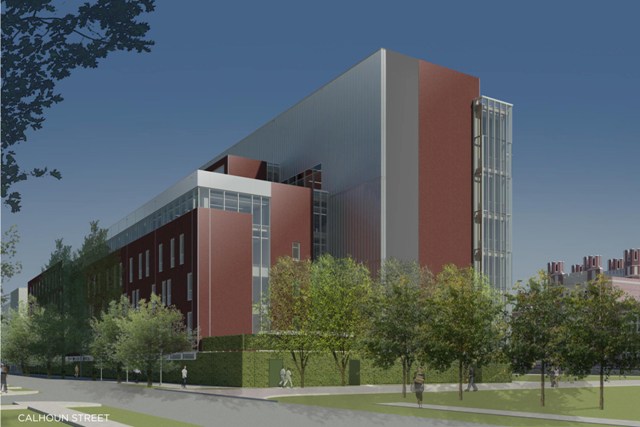 No other academic building on campus is as important to serving Loyola's Jesuit teaching mission as Monroe Hall, the university's largest and most wide-ranging academic facility. Forty percent of all Loyola's classes take place within Monroe Hall, from small humanities seminars to teaching laboratories and fine art and design workshops. These classroom experiences comprise the foundation of students' education in the sciences, humanities, and fine arts. For more than 40 years, its foyers and corridors have bustled with students and professors as they exchange ideas and insights. Its showplace, Nunemaker Auditorium, which seats more than 400, has hosted some of the most prestigious lecturers and performers to appear on Loyola's campus.
To give our students and faculty the facilities they need to be 21st-century scholars, scientists, artists, and professionals, Loyola University New Orleans seeks to raise $16 million in philanthropic support to transform Monroe Hall, including $2 million for Nunemaker Auditorium. The overall project is a $96 million investment, with much of the funding coming through careful budgeting and the support of a bond issue. Philanthropic investments from alumni and other benefactors will help provide Loyola students a versatile, state-of-the art launch pad where learning can take off.
A Center for Scientific Research
Monroe Hall houses Loyola faculty members' research programs in diverse areas of biology, chemistry, physics, psychology, and mathematics. This research has attracted hundreds of thousands of dollars in external funding while helping propel science research into the 21st century. Our esteemed researchers include Patricia Dorn, Ph.D., a professor of biological sciences, who is a global authority on Chagas Disease, an infection that affects about 8 million people worldwide. Carl Brans, Ph.D., emeritus professor of physics, developed an alternative to Einstein's general theory of relativity. Rosalie Anderson, Ph.D., an associate professor of biological sciences, had her recent findings on limb regeneration research recognized by Science magazine, one of the world's most respected science publications. These and many other Loyola professors contribute important scholarship to their fields while making Monroe Hall their professional home.
"Students are excited to be able to conduct research in a new, well-designed space with cutting-edge equipment," Anderson says. "The rewards that will come from this support are immeasurable as future generations of students, from all types of backgrounds, choose to engage in science and conduct research that can contribute to dramatic improvements in people's lives."
Frank Jordan, Ph.D., professor and chair of the Department of Biological Sciences, adds: "Good work was already taking place in Monroe Hall. Now, more people will want to be a part of it. The new labs are innovative, more flexible, and allow for more hands-on, engaged research and discovery. We make great biologists here, and great biologists become great doctors, health care professionals, scientists, journalists, educators, or pursue other important careers. The reaction of the students to the new labs has been great. Our students deserve the best, and now they have it."
Loyola Arts: New Opportunities in a New Home
The renovation of Monroe Hall includes new spaces for the Departments of Art and Design and Theatre Arts. Along with steadily increasing enrollments, the Department of Art and Design is directly connected to the renaissance in contemporary art currently taking place in New Orleans.
Monroe Hall's renovation will significantly impact the arts in coming years. These new art and theater facilities will more than double the space currently allotted student and faculty artists. The renovation features the newest technology upgrades (including 3-D printer technology), increases the number of arts-centric computer labs from two to four, and incorporates designated space for a new program in New Media arts.
"The new space in Monroe Hall is an amazing addition to the graphic design department," says Devone Paul, a graphic design junior. "Now, students like myself have our own personal studios like that of any professional designer. The new common areas are set up in ways that put me in a creative mindset and encourage communication. Even in the short time I have worked in the new graphic design space, I have noticed a greater element of conversation and critique with my peers."
The renovated Monroe Hall comprehensively addresses the hands-on requirements of our arts programs while also meeting the high-tech needs of our budding scientists. In the course of one day, student-artists will share floors and spaces with student-scientists conducting soil testing, physics students preparing instruments to launch weather balloons, and other liberal arts and sciences students and faculty engaging in interdisciplinary learning.
Nunemaker Auditorium
Nunemaker Auditorium is the liveliest forum on Loyola's campus for public presentations by visiting authors, artists, and intellectuals. It is the space in which our students most commonly come in contact with renowned national figures whose abilities and achievements both educate and inspire. It is a prominent center for exchange in New Orleans, a venue into which Loyola invites distinguished guest presenters as well as sophisticated community audiences. The renovation of Nunemaker Auditorium will enhance the facility to a technical and aesthetic level that matches the quality of discourse that takes place within its walls.
Donors who choose to support the renovation of Nunemaker Auditorium will help create an atmosphere worthy of the visiting scholars, leaders, and artists who enliven the intellectual discourse of the university and city. Because Nunemaker Hall is one of the spaces on campus most often visited by the general public, donors who support its renovation will also enhance one of the primary interfaces between Loyola and its surrounding community.