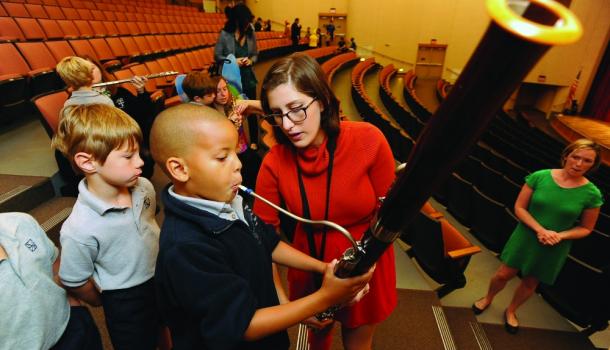 As part of the Faith in the Future campaign, the College of Music and Fine Arts seeks philanthropic support to augment and enhance a set of carefully chosen priorities that will strengthen each aspect of the college and benefit all of its students. With a fundraising goal of $7.3 million, generosity from Loyola's alumni, friends, and supporters will:
Create endowed professorships that allow excellent faculty scholars and artists to undertake research and creative projects, often in collaboration with students, that help them maintain their level of mastery

Outfit Roussel Hall, Loyola's finest performance facility, with a theatrical fly loft that enables advanced artistic presentations

Provide state-of-the-art upgrades to our university recording studio, a key component to the education of students throughout the College of Music and Fine Arts

Construct much-needed additional practice rooms for use by our large and enthusiastic body of student performance artists

Equip our School of Music and multipurpose performance facilities with the finest musical instruments
These strategic endeavors will ensure the continued success of Loyola and our students by supplementing aspects of the College of Music and Fine Arts that already make it great: our culture of providing students mentorship opportunities that will benefit them for a lifetime, our attention to providing students professional learning environments in which they can gain skills that put them at the forefront of their fields, and our commitment to maintaining facilities that match the quality of the outstanding students and faculty who bring them to life.
Help us Shape the Future of Music and Fine Arts at Loyola
Loyola University New Orleans seeks $7.3 million in philanthropic investments to fund initiatives throughout the College of Music and Fine Arts that will enhance our stature and reaffirm our commitment to teaching and the arts. The funding priorities are as follows. Naming opportunities are available according to university guidelines.
| | |
| --- | --- |
| Three endowed professorships | $300,000 |
| The Fly Loft of Roussel Hall   | $3.7 million |
| The renovation of Loyola's recording studio | $1 million |
| Six additional practice rooms   | $400,000 |
| The All-Steinway School Initiative | $1.9 million |
|   | $7.3 million |