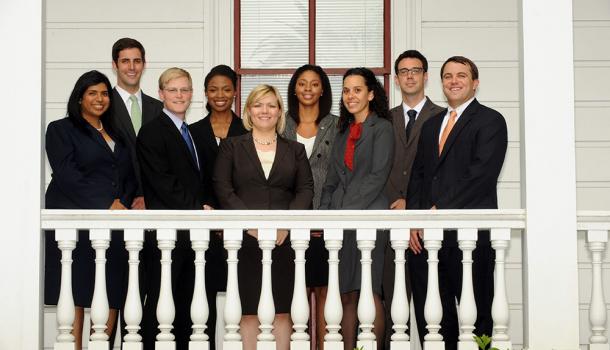 While recent initiatives to graduate practice-ready attorneys have produced encouraging results within the College of Law, there is more work to do. This is why the Loyola University New Orleans College of Law has made its priority for the Faith in the Future campaign the creation of the Center for Law Practice Readiness, which will help ensure Loyola graduates receive not only an outstanding Jesuit legal education but also the ability to thrive professionally, even in a tough job market. 
Philanthropy will be crucial in providing the means to create new opportunities for Loyola College of Law students. Toward this end, as detailed below, we seek $3 million in immediate-use funds and endowed support to create and sustain the Center for Law Practice Readiness. 
The Center for Law Practice Readiness will combine four existing entities within the College of Law and endow them with the resources required to act as a fluid, powerful whole: 
The Academic Success Department 
The Skills and Experiential Learning Department 
The Career Development and Law Practice Center 
The Office of Bar Exam Preparation and Learning Initiatives 
Our talented faculty and staff members who comprise the center will work intimately with our students to address their needs in the classroom, in their preparation for the bar exam, in experiential learning outside the classroom, and in their career-planning decisions. Philanthropic funds secured for the center will help ensure the rate of bar passage and career success by Loyola alumni reflects the first-rate education Loyola law students receive. 
Help Prepare the Next Generation of Loyola Law Graduates for Success 
Loyola University New Orleans seeks $3 million in philanthropic investments to support the programs and personnel that constitute the College of Law's Center for Law Practice Readiness. Ten percent ($300,000) would be allocated to immediate funding needs, with particular attention to establishing a robust docket of specialized bar preparation classes and providing students additional support in their search for employment. The remainder ($2.7 million) will fund a permanent endowment that will support all of the center's activities and scholarship support.