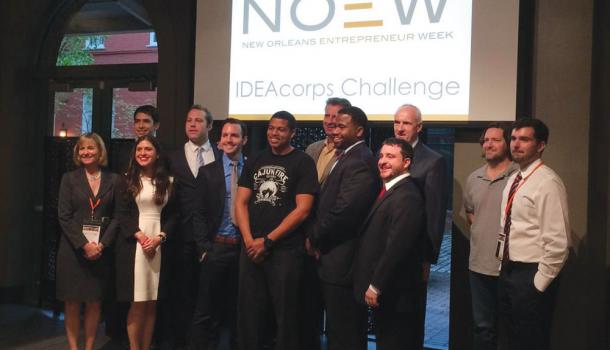 New Orleans has become a nationally recognized entrepreneurial hub. There were 501 business startups per 100,000 adults in New Orleans in the three-year period ending in 2012. That rate exceeds the nation's by 56 percent. 
As part of the Faith in the Future campaign, Loyola's College of Business seeks to raise $3 million in philanthropic donations to create the Center for Entrepreneurship and Community  Development (CECD). This new center will answer the demands of students eager to enter the dynamic entrepreneurial field, of employers to hire graduates with skill sets attuned to growing businesses, and of emerging businesses in New Orleans that can benefit from support. 
Once established and fully funded, the CECD will implement programs on campus and in the New Orleans community that enhance the image of the university, attract increasingly talented students, and advance Ignatian values of excellence in the service of humankind. 
Help Us Shape the Future of Entrepreneurship in New Orleans 
Loyola University New Orleans seeks to raise $3 million in philanthropic support as part of its Faith in the Future campaign to launch the Center for Entrepreneurship and Community Development. 
This endowment, once fully funded, will provide a projected $150,000 annual drawdown to support the center's initiatives. A three-year incubation phase prior to full funding will allow the center to launch in a limited capacity, develop new partnerships and initiatives, and grow toward sustainability. Naming opportunities for most programs and the center itself are available according to university guidelines. 
 
| | | | | |
| --- | --- | --- | --- | --- |
|   | Year 1 | Year 2 | Year 3 | Year 4  |
| Director  | 75,000  | 75,000  | 75,000  | 95,000 |
| Marketing  | 10,000  | 10,000  | 10,000  | 15,000  |
| Ignatian Entrepreneurs | - | - | - | 10,000  |
| Pitch Loyola Competition | 3,000 | 3,000 | 3,000 | 5,000 |
| Venture Booster Weekend | - | - | - | 5,000 |
| Speaker Series | 3,000  | 3,000  | 3,000  | 5,000  |
| Faculty Fellows | 6,000 | 6,000 | 6,000 | 10,000   |
| Travel | 2,000  | 2,000  | 2,000  | 4,000 |
| Miscellaneous  | 1,000 | 1,000 | 1,000 | 1,000 |
| TOTAL  | $100,000  | $100,000  | $100,000 | $150,000  |